Breeder of AKC Chesapeake Bay Retrievers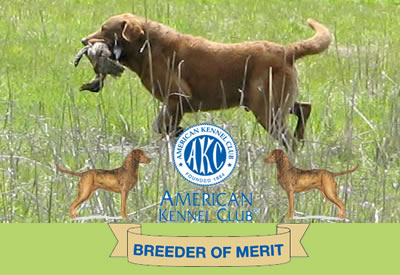 Del Brave Chesapeake Bay Retrievers is located in the Raleigh area of North Carolina, We are conveniently located for travelers coming from Pennsylvania, Maryland, Virginia, and South Carolina.
For eight years prior to breeding my first litter in 2000, I trained my Chesapeake Bay Retrievers in obedience, conformation, for field work and hunt tests, and agility. I have a great love of this breed and appreciation of its unique qualities from those years of training which formed my dedication to breeding a Chesapeake Bay Retriever true to its hunting heritage while focusing on health, good temperament, and sound structure.
About the Chesapeake Bay Retriever
Whether your interest is hunting, competitive events, or conformation showing the Chesapeake Bay Retriever is a versatile breed, noted for its love of water and loyal and protective nature. This breed makes a excellent family companion.
Why register your puppy with the AKC?
You are considering a purebred dog from a chesapeake bay retriever breeder who registers the litter and parents with the AKC. As an AKC Breeder Of Merit I individually register every puppy I sell at my expense. Most breeders, even other Breeders of Merit do not. Even if you purchase a puppy elsewhere here are my personal reasons for you to consider why you should individually register your puppy with the AKC.
Contact Del Brave Chesapeake Bay Retrievers
Any questions? Call 919.308.2245 or E-mail
gmakatura@gmail.com
Looking for unique Chesapeake gifts?
Brown Dawg Apparel
New Firefox Persona
Personas customize the look of your Firefox browser. This is the first Chesapeake Bay Retriever persona created. Firefox users can download this persona by clicking on the image. "Wear It" starting today.